CENTREDALE MANOR RESTORATION PROJECT
NORTH PROVIDENCE, RI
Health & Environment
Sign up for this Superfund site's mailing list
On this page:
---
What Are the Risks at the Site?
The public may be exposed to site contaminants above EPA's acceptable risk range by eating fish from the river or coming in contact with site sediment and floodplain soil.
To avoid or minimize these risks please see EPA Do's and Don'ts for the Woonasquatacket River (2 pp, 635 K, About PDF).
---
Contaminant Information
High levels of contaminants, including dioxin, PCBs, metals, pesticides, Volatile Organic Compounds (VOCs), and Semi-VOCs, including Polycyclic Aromatic Hydrocarbons (PAHs) Exitare found at the Site. Among the contaminants, dioxins and PCBs are most notable.
Dioxins are a group of chlorinated coounds that are usually by-products of chemical manufacturing or incineration that are highly toxic and persistent once released into the environment, binding to soil and sediment particles. The most studied and one of the most toxic dioxins is 2,3,7,8-TCDD which is prevalent at the Site due to the prior chemical manufacturing activities and waste dumping. Exposure to dioxins may cause reproductive and developmental problems, damage the immune system, interfere with hormones, and cause cancer. Dioxins can accumulate in the tissues of fish and animals consumed by humans leading to adverse health effects when consumed, as well as when directly contacting contaminated soil and sediment in the River. Exposure to dioxins (and dioxin-like compounds) have similar adverse toxicological effects to other living creatures. Through prior human activities low levels of dioxins are now ubiquitous in the environment, especially in urban areas.
Polychlorinated biphenyls (PCBs) Exitare mixtures of synthetic chlorinated compounds. PCBs were once widely used as dielectric and coolant fluids in electrical equipment, in carbonless copy paper and in heat transfer fluids. In the environment, PCBs are chemically stable, readily adsorb onto sediment particles, and resist biodegradation. EPA has found evidence that PCBs have toxic effects, including cancer, liver toxicity, reproductive toxicity, developmental effects, neurotoxicity, dermal toxicity, and thyroid and endocrine effects. Once absorbed to sediment on the bottom of water bodies, PCBs then bioaccumulate in fish and other aquatic species, increasing the risk of adverse health effects for humans who consume these contaminated species. PCBs affect mortality, growth, and reproduction in fish and other animals and birds.
Dioxin-like PCBs may be associated with liver hypertrophy, reproductive effects attributable to steroid hormone imbalance, thyroid hormone imbalance, and immunological effects.
View a full list of contaminants of concern for this site.
---
Maps
https://semspub.epa.gov/src/document/01/100010341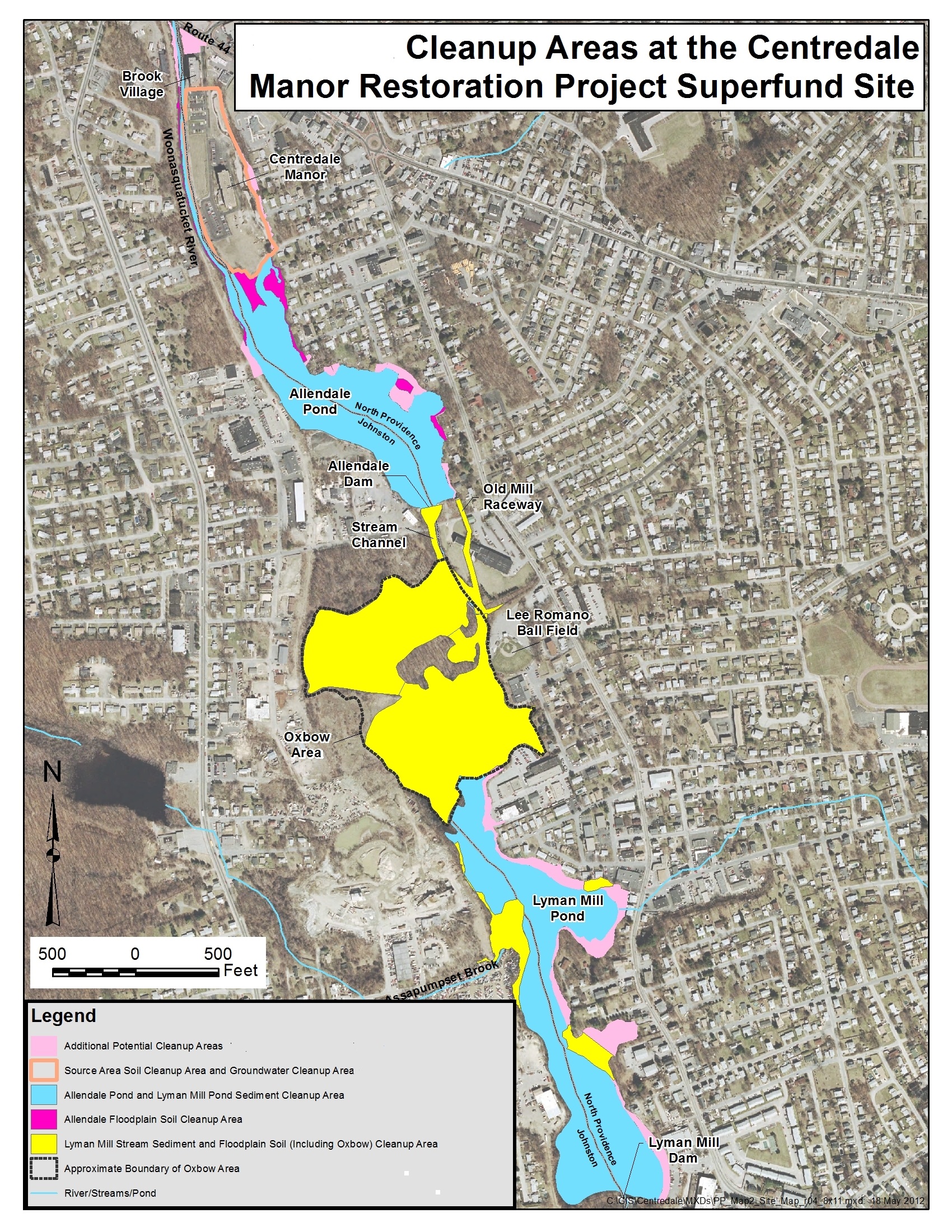 ---
Performance Measures
EPA uses performance measures to track environmental results at Superfund sites. If you have any questions or concerns about the measures at this site, please contact the site team members listed under Site Contacts.

Read more about Superfund Remedial Performance Measures.
Performance
Measure
Status at this
Superfund Site
What does this mean?
Human Exposure Under Control
No
Yes means assessments indicate that across the entire site:

There are currently no unacceptable human exposure pathways; and
EPA has determined the site is under control for human exposure.

No means an unsafe level of contamination has been detected at the site and a reasonable expectation exists that people could be exposed.

Insufficient data means that, due to uncertainty regarding exposures, one cannot draw conclusions as to whether human exposures are controlled, typically because:

Response to the contamination has not begun; or
The response has begun, but it has not yet generated information sufficiently reliable to evaluate whether there are currently any unacceptable human exposure pathways at the site.

Groundwater Migration Under Control
Insufficient Data

Yes means EPA reviewed all information on known and reasonably expected groundwater contamination. EPA concluded the migration of contaminated groundwater is stabilized and there is no unacceptable discharge to surface water. EPA will conduct monitoring to confirm that affected groundwater remains in the original area of contamination.

No means EPA has reviewed all information on known and reasonably expected groundwater contamination, and the migration of contaminated groundwater is not stabilized.

Insufficient data means that due to uncertainty regarding contaminated groundwater migration, EPA cannot draw conclusions as to whether the migration of contaminated groundwater is stabilized.

Construction Complete
No

Yes means the physical construction of the cleanup is complete for the entire site.

No means either physical construction is not complete or actions are still needed to address contamination.

Sitewide Ready for Anticipated Use
No
Yes means:

All cleanup goals affecting current and reasonably anticipated future land uses of the entire site have been achieved, so there are no unacceptable risks;
All required land-use restrictions or other controls have been put in place; and
The site has achieved Construction Complete status.

No means that one or more of these three criteria have not been met. However, a site listed as no may still have redevelopment occurring on portions of the site and may be eligible for additional redevelopment.